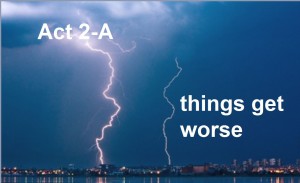 As mentioned in our previous post on "What Happens Next," the middle part of your novel (your "Act 2") is split into two parts.We're calling these Act 2-A and Act 2-B.In Act 2-A, the Hero faces searing challenges. He needs to tap into his resources. He struggles mightily.In Peter Benchley's novel,
Jaws
, this is the place in the story where Police Chief Brody finds it impossible to get the Mayor to close a community beach infested by a man-eating shark.In Tolkien's
Fellowship of the Ring
, it's where Frodo and his Hobbit friends are  on the run from Sauron's forces.
In Helen Fielding's Bridget Jones's Diary, it's where Bridget finds the wrong Mr. Right–her boss Daniel Cleaver–and gets off on the wrong foot with the right Mr. Right (Mark Darcy).
You get the idea.
Benchley, Tolkien, and Fielding were downright cruel to their fictional creations. The thing the hero/heroine wanted, in each case, was out of reach throughout Act 2-A. His/her efforts were thwarted at every turn.
But the Hero's frustration made for gripping reading. It kept us turning pages. It created a great Story.
Good authors are not very kind to their heroes. Theymake sure–for the sake of Story–that their heroes struggle mightily against great odds. And that brings us to something called . . . the Midpoint Shift.
Check out the next post on writing for more about the Midpoint Shift.