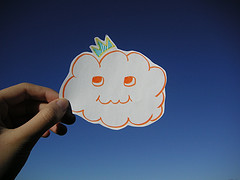 Writers storing working drafts of a novel electronically need to have the assurance that their work will be there from one day to the next. As computers have been known to crash and fail, taking hours and days of hard work with them, "cloud" storage makes a lot of sense for writers.
What is "cloud" storage? Okay, I'm not a tecchie, so the best I can come up with is that the "cloud" here is some sort of magical place in the Internet ether. Anyway, it's outside your personal PC.  This means if your PC crashes, your data is not lost. Also, you can access your data from any computer anywhere. You just need to enter your login and password.
Unexpected trip to Paris? Forgot the thumb drive with the latest draft of your novel? No problemo. You can lean back on your cafe chair on the Champs-Élysées, fire up your PC, sip your espresso, and retrieve your document from the "cloud" – because, really, in the heart of Paris, you do want to put in those eight to ten dutiful daily writing hours, don't you?
Well, we'll talk about work-life balance in another post. Back to the "cloud."
Two "cloud" data storage softwares I find useful are: Evernote and Dropbox. Both are free. Dropbox can be downloaded at dropbox.com
I really like Dropbox; it allows you to create folders and store documents within those folders – all outside your potentially unreliable personal PC.
You can access your files online, or download Dropbox to your PC so that it becomes an extra folder which contains all the subfolders and documents you choose to store there.
Evernote which you can download from evernote.com is nice because you can access the data you store there from your smart phone as well as from any PC, as with Dropbox. For me, however, the way Evernote is structured, it is handier for jotting down ideas or notes versus storing data/documents.   Note: There is a hint of a "storm cloud" over data storage in the "cloud" due to some people using cloud storage systems to exchange pirated files. Google "Megaupload" to find out more about this.
The only real concern for users like me would be if Dropbox or Evernote might one day be handed down a ruling that they can no longer store information. Then I might need to find an alternate storage system. But in situations like this, host sites almost always give users ample warning. Even Megaupload users were given several days' warning before the site closed down. I believe it is unlikely that Dropbox and Evernote will ever shut down, but I am mentioning the concern as it's a topic of discussion currently.
Another "cloud" storage option is Amazon.com's JungleDisk.com. I back up some of my data on JungleDisk. This is not a free program but it's not pricey either. I pay only about $2/month. Jungledisk allows you access to your files from any of your PC's if you have more than one; but it's not designed for sharing files, so it probably doesn't face any threat of ever being shut down. Once you download it, Jungledisk becomes an extra drive on your computer from which you can access your files. Or, you can just login to the jungledisk site and access your files from there.
In my opinion, Dropbox's design makes it the easiest to work with for storing and accessing notes and manuscripts.
I also have some data stored on a Western Digital external drive with a 1,000 Gigabyte (huge!) capacity for storage. But I don't trust hardware storage entirely. Have heard too many stories of data lost. I purchased my WD drive at BestBuy. (Read the reviews previous purchasers have kindly supplied, and look for a model that has met expectations among reviewers.)
Image courtesy of Akakumo via Flickr